Feature Story THE WORLD STAGE 3 JAPAN : Japan's Masaki Oshiro and Taiwan's Pupo Teng Lieh are the focus of attention
Japanese champion Oshiro competes on his home stage.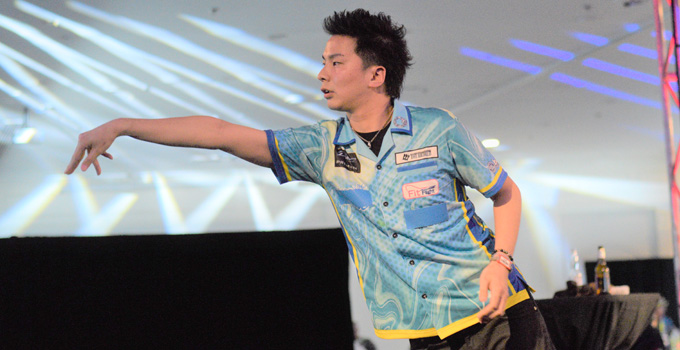 Masaki Oshiro
Although he is not well known outside of Japan, Oshiro has become an invincible darts player in Japan.
Oshiro's skills don't differ greatly from the world's top Japanese players such as Haruki Muramatsu and Seigo Asada. Oshiro ranked first in Japan Tour last season and has recently won four stages in a row. The invincible Japanese player is about to face some of the toughest players from other countries in this stage of THE WORLD.
"Some people say that I am the ultimate champion now as I ranked first, but I haven't yet reached that level."
Oshiro is a humble and objective player. He doesn't let his success go to his head but calmly analyzes where he stands now in terms of competitions.
"Many Japanese players will participate in THE WORLD this time. I am one of those players. I will challenge myself to go higher as a darts player. The current ranking doesn't matter, besides it is still mid-season. I want to see how far I, Masaki Oshiro, can go against the world's top players."
BEST 32 is Oshiro's best record in THE WORLD. What kind of performance will the Japanese champion deliver against the world's leading players?
Pupo Teng Lieh, a Taiwanese player, delivers an exciting performance due to the support of his family
Born to Tibetan parents in India, where he grew up, Pupo was 18 when he and his family moved to Taiwan. While running a Tibetan restaurant in Taiwan, he started drawing people's attention as one of the up-and-coming darts players. As Pupo increased his performance as a darts player, he decided to devote himself to darts as a professional. Last year he asked his sister to manage the restaurant. Since then, he has been fully dedicated to darts.
"I have earned good results in THE WORLD from last season to this season. I was able to do this because of the support from my family and friends. Of course, I practice every day. I am also very grateful to my sponsors whose support has allowed me to perform on the stage of THE WORLD."
Pupo demonstrated tremendous growth in rankings. In 2017, he ranked 86th, 5th in 2018, and currently 3rd.
This Japan stage is the middle stage of the season. Pupo' goal is to rank 4th in the 2019 Annual Ranking. This is an important stage to earn a seeding spot in SUPER DARTS 2020.
"Of course, I am competing to play in SUPER DARTS. My greatest goal is not only to play there, but to earn the title of champion for Taiwan and my sponsors, and bring them the honor and prestige.
This time, 512 players will participate on the stage, twice as many as in other stages.
This stage will be extremely tough as Japan is the center of darts. To be the winner, participants are required to possess physical toughness, outstanding darts skills and psychological strength in order to survive the entire stage.
THE WORLD STAGE 3 JAPAN is set for Saturday, 24 August. There will be many exceptional performances by leading Asian players such as Oshiro and Pupo.