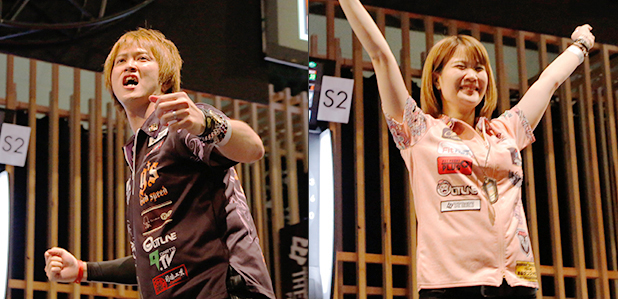 PREMIUM STAGE took place in Japan on Saturday August 27. Players with various darts manufacturers competed over the spots for THE WORLD GRAND FINAL that is scheduled in this December. The great lineup of the players drew many audiences to the venue.

The winner of each division
・OPEN DIVISION: Keita Ono
・LADIES DIVISION: Mana Kawakami
The last 144 as an unforgettable number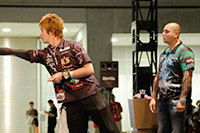 Ono obtained his second victory at this stage following the one at STAGE 3 in the 2012 season. It is a very significant victory for him as he could defeat Boris Krcmar, the top player of 2014 and 2015 rankings.
Ono chose 701 in the last leg as he had been doing well in the game on the day. Ono was close to bridging the gap with the first thrower, Krcmar. The Croatian player finished the 5th round with 60 left and the Japanese player started the round with 144. Ono snatched the victory from Krcmar with BULL-T18-D20.
Ono commented in the winner interview, "I competed against Boris for the first time. I could play all 701 games excellently today. So I chose 701 in the last leg and won. The 144 in the last will be my unforgettable number!"
Kawakami shines at the first LADIES DIVISION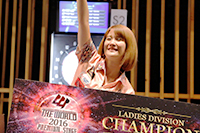 In LADIES DIVISION, Kawakami won defeating the powerful contenders such as Sasaki and Nishiguchi.
Kawakami commented expressing her joy and excitement,
"I have used all of my energy. I often play with Nishiguchi. I was sort of prepared. I was thinking if she beats me, I would accept it. So I decided to enjoy the game not thinking much about the result. I could enjoy the game!"
Ono obtained the spot for THE WORLD GRAND FINAL that will be held in December while Kawakami got the spot for WILD CARD TOURNAMENT of THE WORLD GRAND FINAL.
Competitions over GRAND FINAL spot
| Rank | Name |
| --- | --- |
| 1st | Boris Krcmar |
| 2nd | Alex Reyes |
| 3rd | Leonard Gates |
| 4th | Paul Lim |
| 5th | Park Hyunchul |
| 6th | Harith Lim |
| 6th | Cyril Blot |
| 8th | Sho Katsumi |
| 9th | Mitsumasa Hoshino |
As Ono claimed the GRAND FINAL spot this time, number of spots from WILD CARD TOURNAMENT became 7 from 8.
It is inevitable for the matches to intensify for many players to aim the ranking positions with the GRAND FIANL spot.
We have 2 more regular stages of THE WORLD to come.
STAGE 4 will be on Sunday September 11. The matches over GRAND FINAL spots will be webcasted live from Korea. Don't miss the exciting stage!