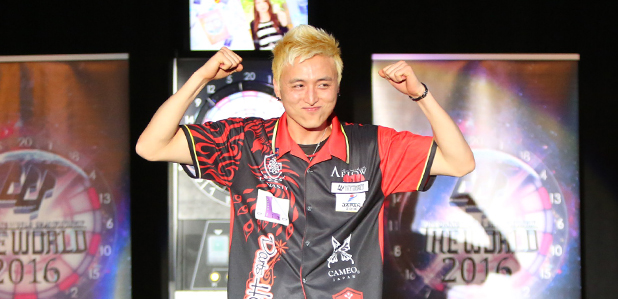 Great start with a new weapon!
"My hard practice brought this result."
Park Hyunchul recalls the opening match of THE WORLD 2016 in the US on May 8 (Sun).
The Korean star player excited the crowd beating 2 US veteran players one after another on the day.
He defeated Darin Young in the quarterfinal and Randy Van Deursen in the semifinal.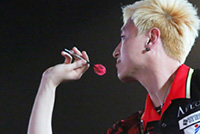 In the final, Park competed against Boris Krcmar but missed the chance to obtain his first title of the stage winner as he couldn't beat the Croatian player who is regarded as the absolute king of THE WORLD. Still, this is the great start of this new season for Park.
"From this season, my barrel is the signature model, JUJAK2 (DYNASTY). The 21g barrel works very well with my throwing and it enhanced my accuracy. I couldn't make it in the final but I will play my best to win STAGE 2 and more." Park commented about his new barrel.
Aiming to be Top 3!
▼ANNUAL RANKING
 (Park Hyunchul)
| | |
| --- | --- |
| 2012 | 100th |
| 2013 | 79th |
| 2014 | 19th |
| 2015 | 6th |
Park has been in THE WORLD since 2012 that was the second year of the event. In his first appearance of the event, Park ended at 100th (tie) but he became stronger year by year and finished at 6th in 2015 ranking after becoming a runner-up 2 times in the year. He is now aiming higher.
"All participants in THE WORLD are strong and skilled. It is not easy to go higher in the ranking but I want to be top 3 or better in 2016."
Park must be picturing himself in THE WORLD 2016 GRAND FINAL where only top 8 can compete.
"I want darts fans of all over the world to think my plays are always exciting and enjoyable. I am practicing darts with that in my mind. Root for me! "
It will be interesting to see how far Park can go in addition to whether Krcmar can obtain his 3rd championship title in THE WORLD and emergence of new players of this season. THE WORLD 2016 STAGE 2 will be in France soon. We will have its live webcast on Jun. 19 (Sun). Don't miss it!!