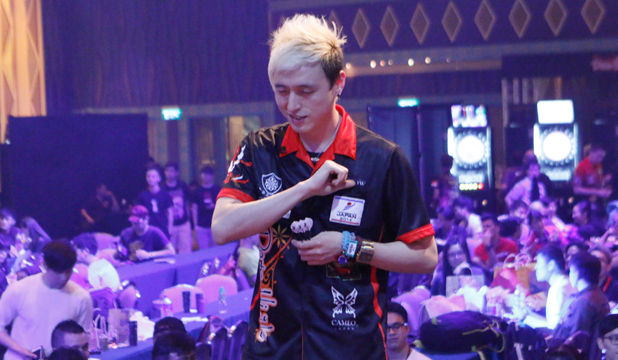 Park's victory
Park Hyunchul got the audience excited the most at the opening match of THE WORLD 2015 in Macau. The Korean player defeated the leading players of THE WORLD one after another with his outstanding performance.
Park says "This good result came from the fact that I could focus on my performance very well as I could control psychological factors fairly well." He advanced to the final for the first time after beating the higher ranked players such as, Adrian Gray from UK, Paul Lim, the king of SUPER DARTS, and Boris Krcmar who shot 58 consecutive BULLs at BULL MASTER on the previous day.
"The most impressive match was the one against Boris Krcmar, the top player of the annual ranking of the previous season." Park continued. Krcmar and park engaged in a see-saw battle from 1st to 4th legs, and their stats were very high, both 7.00 at the Cricket in the 3rd leg. However, Park scored 8 mark at the 5th round of the Cricket in the final leg. He kept the momentum up and won.
Eager to fight Ilagan again
However, Park was defeated in the final by Lourence Ilagan who had been in top condition. "I guess I lost because my concentration dropped as I wanted to win so badly. I would like to compete against Ilagan in the next venue in Singapore. I will make further efforts to be able to play my best constantly. So please keep showing your support!"
THE WORLD STAGE 2 will be held in Singapore on Sun, 24 May (Local Time).
Don't miss it!