Feature Story - Leonard Gates -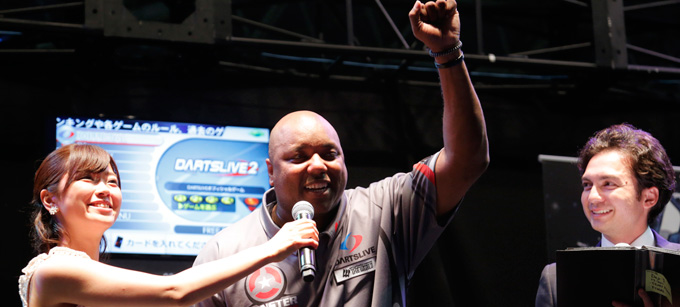 "I didn't give up although I had not been able to win any stage since STAGE 3 in 2015. So I am very much enjoying this victory again. To darts players across the world, you will be able to reach your goal if you play your best one match at a time. Just keep playing even you haven't reached your goal."
Leonard Gates who is also known as "Soldier" commented after winning THE WORLD 2017 STAGE 4 JAPAN -PREMIUM- that took place in Japan on Sat Aug 19.
This is his first stage champion title in 2 years and raised him to the 5th in the standings. Can Gates defeat the players ahead of him to go further up in the listing? He is the one of the most popular contenders of THE WORLD.

BULL precision excited audiences in STAGE 4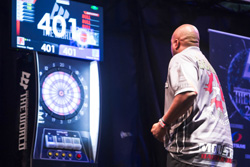 Ranked 3rd in 2015 and 4th in 2016, Gates is one of the leading contenders of THE WORLD although he missed the champion title during theses 2 years.
He had a slow start in this season but thrilled audience with his overwhelming performance in STAGE 4.
Especially, his precise performance in shooting BULL was outstanding. Gates achieved 701 BULL perfect 3 times after the SEMI FINAL.
From his perfect game development, it was obvious that Gates is one of the huge threats to the leading players in this season as well.


Excitement of soft-tip darts presented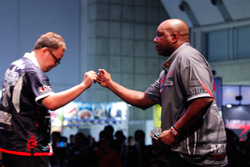 Not only with his performance, Gates also attracts people with his magnetic personality. When his opponents show a nice performance in a match, Gates offers a fist bump naturally.
In award ceremonies of other players, he shows respect to others and engages in friendly conversations with others with smile on his face.
Not only his excellent darts performances, but his gentile behaviors also attract darts fan. It is for certain that all leading players care about their game results. But we can also tell easily that Gates is enjoying soft-tip darts so much.

There are only 2 stages left in 2017 season. Paul Lim has earned the highest points and stays at the top in the current standings. However, the point differences between leading players are getting smaller.
Upcoming competitions will be harsher as BEST4 in the 2017 rankings can compete in SUPER DARTS 2018.

STAGE 5 will be in Malaysia on Sun Oct 22. What will happen on the stage in the late season? Watch the development of THE WORLD as well as the performance of the STAGE 4 winner, Gates on the live webcast on DARTSLIVE.TV!