Post-event report - THE WORLD 2017 STAGE 4 -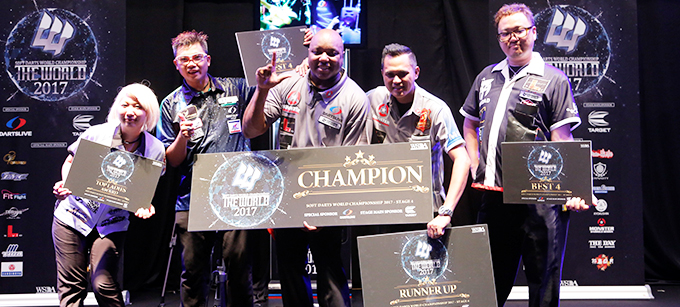 THE WORLD 2017 STAGE 4 JAPAN -PREMIUM- took place on Sat Aug 19 concurrently with NIPPON DARTS FESTIVAL, a Japan's leading soft-tip darts event. This "PREMIUM" stage had many competitive players who can't be seen that often in regular stages of THE WORLD. In this harsher stage, one of THE WORLD's favorites, Leonard Gates of the U.S. has grabbed the victory and moved up in the 2017 standings
Japanese Players Added More Excitement to the "PREMIUM" Stage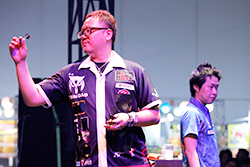 Many leading Japanese players joined this "PREMIUM" stage as its special eligibility requirements allowed more diverse entries than regular stages. One of these Japanese players is Keita Ono, SUPER DARTS 2017 champion and 2016 PREMIUM STAGE winner. Despite high expectations from fans, Ono was defeated in the 1st match of the SKO Tournament.
Among single-stage participants, Seigo Asada was one of the toughest threats to other players on the day. For his strength and popularity, he was selected to play in SUPER DARTS 2017. Asada advanced to SEMI FINAL disposing of other leading players such as the top player of SOFT DARTS PROFFESSIONAL TOUR JAPAN, Haruki Muramatsu, and one of the frequent contenders of THE WORLD, Shingo Enomata. In SEMI FINAL, Asada faced Leonard Gates and fans were drawn to their thrilling match. Gates won their tense match that lasted to the final leg, and advanced to FINAL.

The BULL to set up a climactic finish
Many high-profile players left the stage before FINAL due to unexpected developments of this stage. Among those players were top 2 in the 2017 standings: Paul Lim on the 1st and Harith Lim on the 2nd. The 2 players who made it to FINAL were Leonard Gates and Lourence Ilagan of the Philippines. Champion title of THE WORLD had been out of reach for both players since 2015 season.
In the first LEG, Gates threw first and led the game without missing any BULL. In the 5th round, he finished his remaining 101 points hitting BULL-S1-BULL. The 2nd LEG went to Ilagan while the 3rd one to Gates. Both defended their LEG successfully. In the 4th LEG, both players reached 101 points without missing any BULL. The first thrower, Ilagan shot BULL-S1, but his last dart went to S17. Therefore, Gates broke the game finishing his 101 with BULL-S1-BULL, and received big applauds as the champion.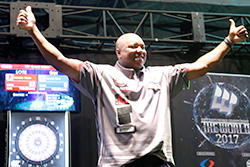 This tournament was highlighted with the superb performances of strong title contenders of THE WORLD such as Leonard Gates, Lourence Ilagan, and Royden Lam who is now on the 4th in the 2017 standings. Leading members didn't change in the standings except for the advancement of Gates to the 5th. However, THE WORLD 2017 has only 2 stages left. These leading players are trying to take every opportunity to rank higher. The winner of the 2017 season, Boris Krcmar who is on the 6th in the standings still has a chance to advance as well.
The highly anticipated STAGE 5 will be in Malaysia on Sun Oct 22. Don't miss the live webcast on DARTSLIVE.TV!