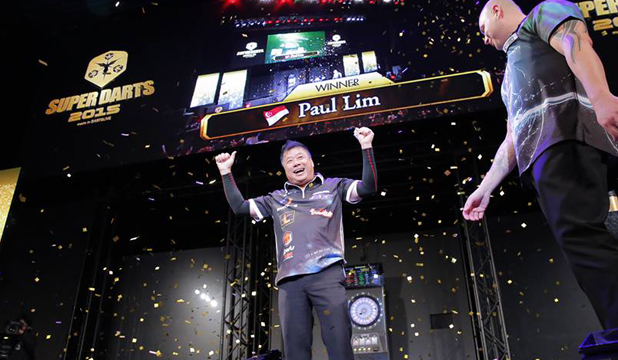 Boris Krcmar and Paul Lim, the 2 top rankers of THE WORLD competed over the title of SUPER DARTS 2015 on Thu. 26 Mar., 2015.
From all over the world, topnotch players participated in this supreme stage to be named as the world's best darts player.
Among the toughest players, Paul Lim who is also known as the "Legend" has become the champion. For him, 2014 was not that great year, but Lim showed his marvelous recovery on the stage at SUPER DARTS this year.
Although Krcmar missed the title narrowly, the champion hopeful showed his amazing performance as the top player of THE WORLD 2014 annual ranking.
Lim's performance was overwhelming at the final.
Especially, his plays in the 5th and 6th legs were astonishing.
They were genuine "super darts plays". In the 5th leg, Lim was the first thrower and showed BULL perfect.
He got great momentum going and achieved 9 marks for 3 times in a row from the 1st round in the 6th leg.
Lim obtained the victory by defeating Krcmar whose high level performance stood out in the tournament.
Boris Krcmar and Paul Lim will join THE WORLD 2015 that will begin on Sun. 5 Apr.
Visit here for the live webcast