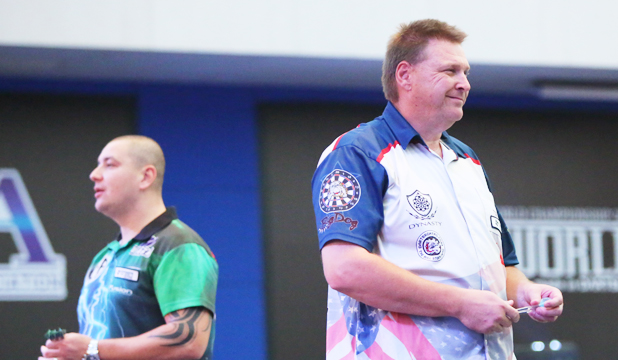 THE WORLD STAGE 6 was held in Shanghai China On Oct.18 (Sun). The winner was Randall Van Deursen.
This US player joined from the first THE WORLD in 2011 and he got his first victory of THE WORLD on this stage. This tall player is one of the popular players of THE WORLD with his performance with rapid throwing tempo.
Annual ranking
| No. | name | Point |
| --- | --- | --- |
| 1 | Lourence Ilagan | 153pt |
| 2 | Leonard Gates | 150pt |
| 3 | Boris Krcmar | 141pt |
| 4 | Paul Lim | 140pt |
| 5 | Adrian Gray | 139pt |
| 6 | Park Hyunchul | 135pt |
The annual ranking also includes great players.
Currently, the top is Lourence Ilagan. This Filipino player is one of the strongest players in Asia. Although he didn't participate in STAGE 4, he is a leading contender of this tournament.
Then, Leonard Gates follows the top. He drew huge attentions in AMERICA'S TOUR and started joining every stage of THE WORLD from its beginning. Winning STAGE 3, Gates is now one of the powerhouse players of this season.
The 3rd spot has Boris Krcmar who was the top of the previous year's ranking. He hasn't won any stage yet, but his performance has been picking up from the mid stage. Krcmar is still one of the potential winners.
On the 4th, the Asian legend Paul Lim follows. He is the only one who won both SUPER DARTS and THE WORLD GRAND FINAL.
Currently, the top player earned 153 points while the 6th did 135 points. The difference is only 18 points. The 6th player, Park Hyunchul still has a chance to turn things around to obtain the victory at the final stage.
The final stage, THE WORLD STAGE 7 Taipei will be on Nov. 29 (Sun).