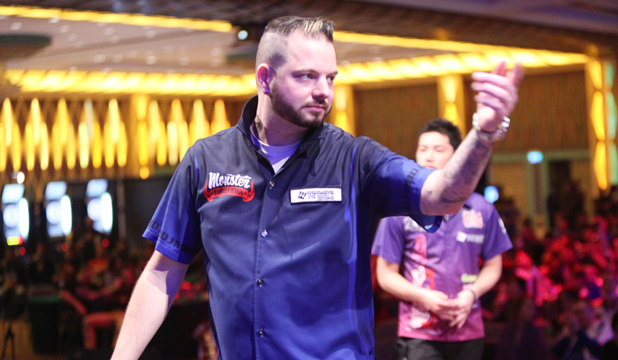 Opening matches of THE WORLD 2014 were held in Macau on Apr. 5(Sat).
THE WORLD 2014 is the world's top tour tournament of soft-tip darts, and it has entered its 4th season. In Macau, Adrian Gray from UK took his first lead in the season by winning THE WORLD 2014 STAGE1.
This is Gray's 5th appearance in THE WORLD. He has been Best 16 or better in all the stages he played.
Gray earned the victory in the season opener defeating tough players including Christian Perez from the Philippines, Boris Krcma from Croatia',Yuji Eguchi and Morihiro Hashimoto from Japan. This winning made Gray one of the strong candidates for the top player of annual point ranking this year. He is a player with good potential to be one of the regular leading players in THE WORLD annual point ranking.
Top players of STAGE1 include not only Perez and Krcma but also the top players of last GRAND FINAL such as Hashimoto, Tanawat (Thailand), Randall Lee Van Deursen (USA). Meanwhile, Best 32 have all past GRAND FINAL winners: Paul Lim (Singapore), Takehiro Suzuki (Japan) and Laurence Illagan (Philippines). We are looking forward to see the outstanding performance by these big names at STAGE2.
STAGE 2 will be held in La Rochelle on June 15(Sun).