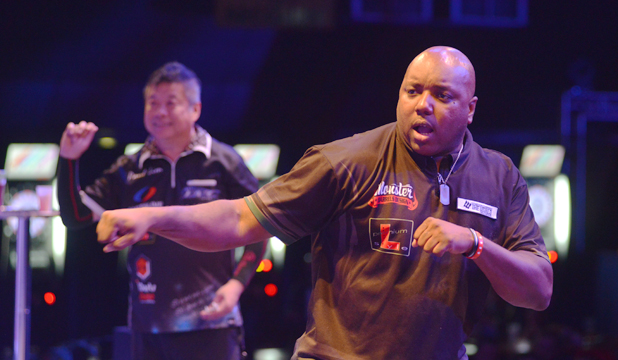 THE WORLD STAGE 3 was held in France on Jun. 14(Sun). Leonard Gates won THE WORLD for the first time at this stage. He is one of the leading players of AMERICA'S TOUR.
Gates' opponent was Paul Lim from Singapore, one of the strongest players in Asia. Lim led 0-2 in the first half of the match. Cornered Gates fought back fiercely from the 3rd leg cricket although he was the second thrower. He took 701 of the 4th leg again after taking the 3rd. In the final leg, Gates won the cork and throw first. The leg went to the American player.
This victory raised Gates up to the 5th in the annual point ranking while the runner-up, Lim jumped to the 4th. Lourence Ilagan became Best 4 at this stage and stays on the top position. Each stage changes the player lineup dramatically for the annual ranking. It is hard to look away from the heated ranking battles.
THE WORLD STAGE 4 in Canada will be webcasted live on Aug.9(Sun)