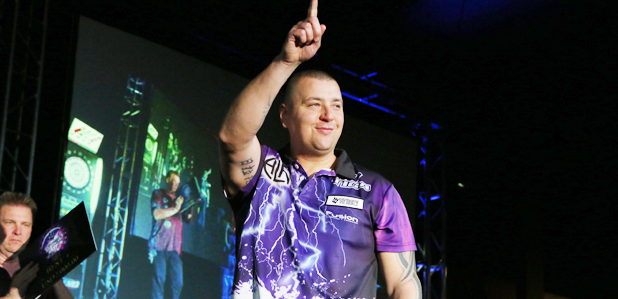 The STAGE 1 was held in the US on May 8 (Sun) as the start of THE WORLD 2016 season that fans across the world had eagerly awaited. The tournament is much harder in this season with new introduction of pretournament round robin. Boris Krcmar won this awaited first stage. The Croatian player is aiming for unprecedented record in THE WORLD.
Great start for Krcmar to fight through for his champion record of 3rd successive year!
Invincible!――
It is the perfect word to describe Krcmar on the day.
He competed against Leonard Gates in the semi-final. People had started call the US player as one of the leading players of the world due to his recent outstanding performances. We had expected a close semi-final match as Gates had been winning through to the match. However, Krcmar threw first in the 1st leg and went on to win 3 straight legs to advance the final.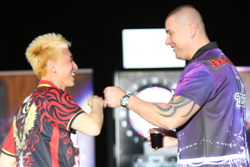 Park Hyunchul was Krcmar's opponent in the final. He defeated tough US players such as Randy Van Deursen and Darin Young. The Korean player hasn't become the champion yet but advanced to the finals 3 times in THE WORLD.
Park threw first in the first leg but Krcmar played perfectly till the 4th round and got the leg. The 2nd leg went to the Croatian player as the Korean player missed the chance to reverse the situation at the end. Park went on nicely in the first part of the 3rd leg but Krcmar's strategy worked at the end although his score was less than his opponent. Krcmar closed Park's 18 to 20 consecutively and won 15 and BULL. Thus, Krcmar won by reversing the 3rd leg.
Can anyone defeat Krcmar!?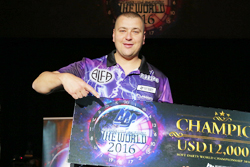 From his straight winnings of semi-final and final matches, audiences may recall Krcmar's amazing strength in the 2014 season when he was always occupying the top position. Can Krcmar conquer the THE WORLD 2016 season again? Will anyone stop his winning streak? More excitements wait for us from STAGE 2 on as top ranked players who were not in the stage 1 such as Lourence Ilagan (Philippines) and Adrian Gray(UK) will join this tournament circuit.
THE WORLD 2016 STAGE 2 will be in France on Jun.19 (Sun).
Enjoy the live webcast of the amazing matches.
http://darts-theworld.com/en/live/