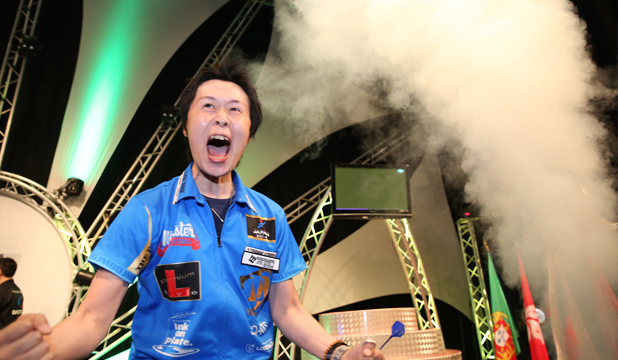 I have never heard audience boos in soft-tip darts tournaments except this one.
It was the final match of THE WORLD STAGE 2. The tournament came alive that much.
In France, soft-tip darts is established as a spectator sport firmly. With the great MCs, the crowd responded wildly to each move of the players on the stage with lots of lights and loud music. The crowds were so excited that they couldn't stop booing.
The winner of STAGE 2 is Haruki Muramatsu from Japan. It is the first memorable winning by a Japanese player since the GRAND FINAL in 2012.
Muramatsu played against a Canadian player, Shaun Narain. The 21-year old player is one of the power house players in this tournament.
Narain advanced after defeating Paul Lim and Ray Carver, one of America's leading players.
"I guess my instantaneous force worked well in each round." Muramatsu commented looking back at the GRAND FINAL.
With his overwhelming shooting power, Narain provoked Muramatsu, but the Japanese player conquered critical rounds and fought back fearlessly till the last leg. Finally, the victory went to Muramatsu.
This STAGE had a full of young players such as Narain and Shunpei Noge (Japan). This tournament showed an emergence of new generation.
It would be interesting to see competitions across generation in upcoming THE WORLD.
THE WORLD STAGE 3 is scheduled in Shanghai, China on August 17(Sun).