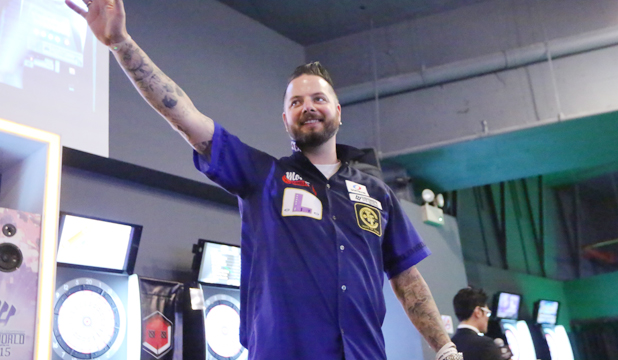 Only 8 won 2 times or more
"This is one of the special winnings in my career. In darts, you can't always get the results you want. Both luck and condition of the day decides the game results.", Adrian Gray commented right after the winning of THE WORLD 2014 STAGE 1.
After 1 year and -- months from the winning, Gray obtained his second winning at STAGE 2 in Singapore. THE WORLD has had 31 regular stages by now. Out of the 31, the UK player has conquered the 2 stages. Only 8 players out of around 2,000 players of THE WORLD won 2 or more stages of it. These facts show the significance of his winning at this time.
Gray competed against Park Hyun Chul who defeated the UK player in the previous stage.
"I tend to get too focused and run out of concentration before the match ends. So I tried not to do that in the final. I played to get back to Park Hyun Chul who defeated me in the previous stage."
Gray in top gear
Adrian Gray's strength is well known as the player who upset Phil Taylor in steel tip darts. Gray's record in the past couple of months shows his stable performance.
■SUPER DARTS(Mar.):Best 4
■THE WORLD STAGE 1(Apr.):Best 8
■THE WORLD STAGE 2(May):Won
His performance has reached the best in THE WORLD, Singapore in May where he won.
Especially in the semifinal against Lourence Ilagan, Gray shined. Ilagan had been maintaining his excellent condition as well since SUPER DARTS and won the previous STAGE 1. In the loud cheering of the crowd, they engaged in a high-level match. In the last cricket, both recorded high stats:8.00 for Gray and 7.67 for Ilagan. Then, the UK player defeated the tough Philippine opponent. Gray maintained his marvelous condition and got a victory over Park.
Currently, Gray is the 3rd in annual ranking while Ilagan is the top with narrow difference of 5 points. Gray still has the chance to be the point leader. Follow his upcoming performance closely!
THE WORLD STAGE 3 France is on 14 Jun(Sun).
http://darts-theworld.com/en/live/