Feature Story - Harith Lim -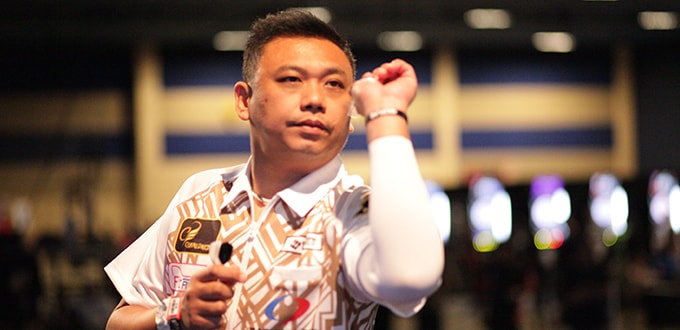 A new Singaporean legend to be born
Harith Lim of Singapore faced Alex Reyes of the U.S.A. in the 2017 season opener. Lim missed the victory and became the RUNNER UP as he was unable to break the final LEG. However, the Singaporean player's precision fascinated many darts fans across the world in the match.
For the fans outside of Singapore, Harith Lim is not known that much as the legendary Singaporean player, Paul Lim. However, both players are almost equally famous in Singapore.
Harith Lim became the winner of a steel tip darts tournament, World Youth Masters in 1986 when he was 16. Since then, he has been one of the popular veteran players of the world.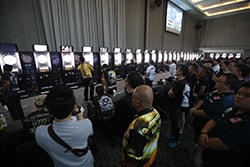 Harith Lim has been participating in THE WORLD since its start in 2011. Every season, he dazzled audience with his outstanding performance. Harith Lim was BEST 4 in 2013 opener, but he couldn't keep his momentum further. In terms of the annual point rankings, he is steadily moving upward: 18th in 2015 and 10th in 2016.
Harith Lim got off to a good start as the RUNNER UP in STAGE 1 in this season. We can't wait to see his fascinating performance in this season.
The world's leading player in soft and steel tip darts
Harith Lim and Paul Lim participated as a pair in The 2017 PDC World Cup of Darts that took place in Germany from June 1 to 4. The team produced one of the biggest shocks in the history of the PDC World Cup of Darts as they defeated number one seeds Scotland in the first round. The opponents were Gary Anderson and Peter Wright, the 2nd and 3rd in the world rankings respectively.
The names of the 2 Singaporean players have obtained higher recognition across the world since this surprising win.
From both his achievements in THE WORLD 2017 STAGE 1 and the PDC World Cup of Darts, Harith Lim proved his strength not only in soft-tip darts but also in steel tip darts.

THE WORLD 2017 STAGE 2 will take place in France on Sunday June 18.
Witness the new Singaporean legend in the making on the upcoming STAGE 2!
Enjoy the exciting matches of Harith Lim and other world's leading players on the live webcast of DARTSLIVE.TV!