Post-event report - THE WORLD 2017 STAGE 5 -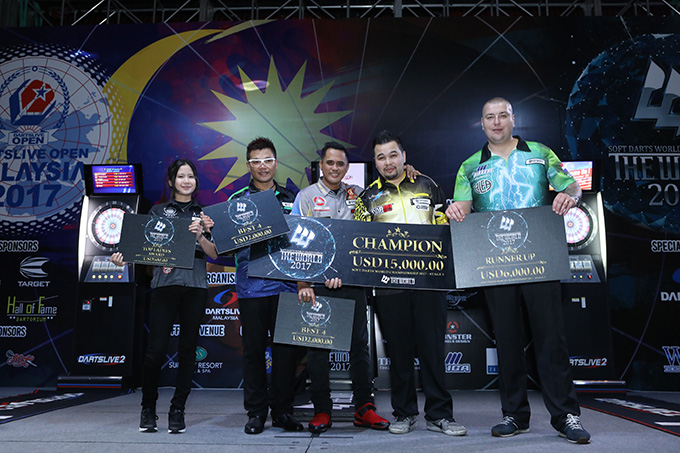 THE WORLD 2017 consists of 6 stages with only 2 stages remaining now.
So far, different players have won each stage this season. No player has won more than 1 stage.
STAGE 5 took place in Malaysia on Sunday October 22 and a new star player was born there. It was Chris Lim who is the son of the legendary soft-tip darts player, Paul Lim.

Emergence of a new star player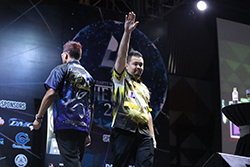 STAGE 5 began with a heated Round Robin.
Chris Lim advanced to FINAL undefeated, keeping his momentum going. He defeated Mica Yu of Hong Kong without dropping a single leg in QUARTER FINAL and did so in SEMIFINAL to Royden Lam who had been the 3rd in the 2017 standings. Lim showed his amazing focus by breaking the final leg, and established his strength and renown in the world.

The strongest coming back to the Final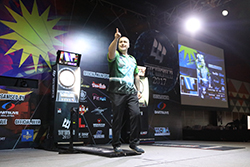 Boris Krcmar advanced to the FINAL, although this winner of last GRAND FINAL had not won any stage in this season and positioned lower than last season. Unlike other stages in this season, his performance regained the momentum on this STAGE 5. Krcmar won the Round Robin without losing any single leg. In QUARTER FINAL, he vanquished the Malaysian player, Tengku Shah, who won the Stage 5 last year, and Krcmar snatched victory in SEMI FINAL by defeating Lourence Ilagan of Philippines 3-1.

Chris Lim earned his eagerly-awaited first victory!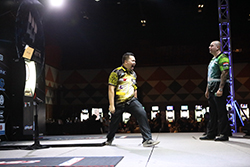 The FINAL match started with Krcmar's throw. Both Lim and Krcmar couldn't break for the first 2 legs, but Lim turned around and broke the 3rd LEG with 9-mark hitting T15-T16-T15. However, Krcmar fought back with THREE IN THE BLACK and excited the audience. Lim extended his winning streak to the 4th LEG where he reduced his remaining 147 points to 0 by hitting BULL-T19-D20. The venue was filled with large cheers and applause at the moment he completed the game.


Current point rankings this year!?
▼Annal Ranking
As of the end of STAGE 5
| | | |
| --- | --- | --- |
| No. | Name | Point |
| 1 | Paul Lim | 163 pts |
| 2 | Harith Lim | 150 pts |
| 3 | Royden Lam | 148 pts |
| 4 | Boris Krcmar | 139 pts |
| 5 | Alex Reyes | 131 pts |
| 6 | Leonard Gates | 130 pts |
| 7 | Chris Lim | 128 pts |
| 8 | Cyril Blot | 112 pts |
At the completion of STAGE 5, Paul Lim has been on the top position since STAGE 2, but the gap between the top 2 players is narrow. There are still opportunities to turn around the standings of 2017 season.
Who will be the top player of this 2017 season? Additionally, those ranked in the top 4 of this season qualify for spots in "SUPER DARTS 2018".
Who will play in the world's supreme darts event!?

These questions will be answered after STAGE 6 in Hong Kong on Sunday December 3.
Don't miss the historic moment on the live webcast on DARTSLIVE.TV.

http://darts-theworld.com/en/live/