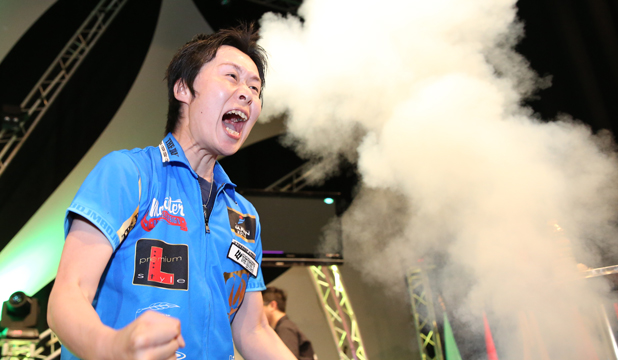 Haruki Muramatsu is one of the leading players in Japan, and his plays somewhat touch the heart of the audience.
I happened to be at several tournaments where Muramatsu won. Those tournaments were all major ones.
"My winnings are mostly in major stages. So people may have strong impression of my victories."
As he said, Muramatsu won many times in high publicity tournaments such as Japan qualification of PDC(PDJ). I noticed that the audiences came alive at his round for almost all the events.
Mutamatsu 's height is a mere1.67m.
His small figure competing against a big opponent reminds me of David, the Old Testament character who as a shepherd boy defeated the mighty big warrior Goliath.
"Probably because I am small, people are rooting for me(laugh)" He also said.
In June, Muramatsu obtained a victory at THE WORLD 2014 STAGE 2 in France.
After a close match, he defeated Shaun Narain (Canada) and excited the audience. As Narain overly provoked and pressured Muramatsu, audience took the Japanese player's side. Regardless the match background, the final was one of the rare matches that excited the audience extremely.
Muramatsu reflects on his victory in STAGE 2.
"For a while, I hadn't won or even reached to any finals in THE WORLD(since STAGE 4 in 2012)So I was very nervous. But I am so glad to win this time."
Asked about Narain's provocative behaviors, Muramtsu commented,
"Shaun's play style this time is also fine, I think. I believe audience enjoyed watching our performance. I enjoyed playing in the final, as well."
Reporters witnessed his relaxed manner that only winner can have.
Muramatsu is highly motivated for the next STAGE 3 in Shanghai.
"Of course, I will be there. As I won this time, I need to play there. I will play with pride in Shanghai as a defending champion. "
THE WORLD STAGE 3 CHINA will be webcasted live on Aug.17(Sun)on DARTSLIVE.TV!
http://dartslive.tv/en/