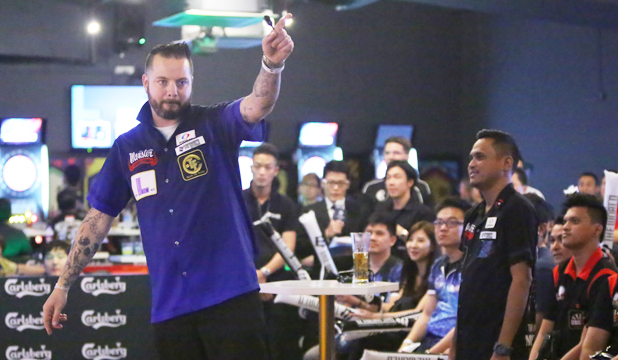 THE WORLD STAGE 2 was held in Singapore on Sunday 24 May. Adrian Gray won the stage. The UK player has been in an excellent condition since he became Best 4 in SUPER DARTS 2015. This is Gray's second stage wining after THE WORLD STAGE 1 last year.
Gray's opponent in the semifinal was Lourence Ilagan who competed against him in the last STAGE 1 final. The Filipino player was also in a great condition and led 2-0 aggressively but Gray fought back tenaciously and advanced to the final. Gray maintained his momentum and defeated Park Hyun Chul who reached the final match for 2 tournaments in a row. The UK player got the 3rd place in the annual ranking. Currently, Ilagan is the top and Park is the 3rd in the ranking. The difference between the top and the 3 is only 5 points. It will be very exciting to see the fierce competitions to be ranked higher.
We also would like to see more great performances from Japanese players. Sho Katsumi, Shintaro Inoue and Haruki Muramatsu are posting great records in THE WORLD while performing outstandingly in Japanese SOFT DARTS PROFESSIONAL TOUR JAPAN as well. As Muramatsu won the last French stage, I am expecting to see amazing performances by the Japanese players in the next STAGE 3 in France.
THE WORLD STAGE 3 France will be on Sunday 14 June.
Don't miss the live webcast
http://darts-theworld.com/en/live/