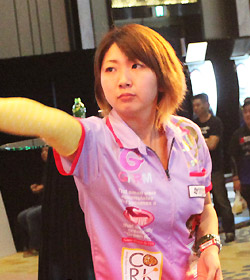 | | |
| --- | --- |
| Name | Mikuru Suzuki |
| Age | 32 |
| Place of birth | Japan |
| Rating | 15 |
| Darts career | 5 years |
──Career highlights and awards
──Player introduction
Mikuru Suzuki is regarded as one of the strongest female players in Japan.
In THE WORLD, she is Best32 that is the best record of female players.
Her overwhelming performance is pushing Suzuki toward the top in the annual ranking of JAPAN LADIES that is a professional darts tour for women in Japan.
Suzuki defeated the ranking leader, Adrian Gray in THE WORLD STAGE 3 after conquering intense games. Suzuki tied for the first place in the female player ranking when she advanced to the 3rd round in STAGE 3.
She thought "I want one more winning." at the time.
"My opponent was Adrian Grey. I only knew him by the name. I didn't even know he was the STAGE 1 winner. After the match, I found out that he was the annual point ranking leader at that time." She said with a smile.
The match against Grey lasted into the final leg, and she grabbed a victory by breaking Grey in the last cricket. "I am glad that I could post 6.4 stats in the last cricket." Her performance can beat players in any category.
Suzuki's next opponent was Croatia's Boris Krčmar, a leading player in THE WORLD.
Suzuki lost 0-3 in the match for Best16, but she enchanted audience with her performance such as responding to Krčmar's white horse by her white horse.
"I am not sure whether I was nervous or not. I was rather having an adrenaline rush. Krčmar was very strong. I lost the game because of my miss. For the next opportunity if it is available, I want to play more precisely."
Krčmar won this STAGE after defeating Suzuki.
"THE WORLD is a great experience for me. If I lose even once, it is over in single elimination but it is a great opportunity to compete against players from overseas. I hope I can compete against as many players as I can in the upcoming STAGE 4 in Japan."
Highly anticipated STAGE 4 will start on Sep. 28(Sun).
To be webcasted on DARTSLIVE.TV!
http://dartslive.tv/en/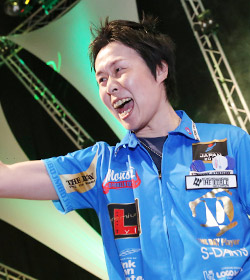 | | |
| --- | --- |
| Name | Haruki Muramatsu |
| Age | 37 |
| Place of birth | Japan |
| Rating | 18 |
| Darts career | Started in 2002 |
──Career highlights and awards
──Player introduction
Haruki Muramatsu is the top player in Japan.
He has participated the most frequently as a Japanese player in PDC World Darts Championship, a top annual tournament of hard tip darts. It remains fresh in our minds that Muramatsu won THE WORLD STAGE 2 in France in June.
He often says "The larger the stage, the better the result of my play". "I enjoy audience's attention. I like audience cheers when I punch the air after my high finish. Moreover, I feel greater when the cheers get louder at my performance that exceeded the fans' expectation. "
THE WORLD has entered the second half. Performances from now on will affect more on the annual ranking.
Muramatsu is currently at the top position. To make sure to obtain his spot in SUPER DARTS next year, he needs to occupy a leading position at STAGE 4.
Much waited STAGE 4 to be held on Sep. 28(Sun)
To be webcasted on DARTSLIVE.TV!
http://dartslive.tv/en/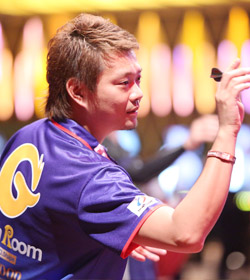 | | |
| --- | --- |
| Name | Takehiro Suzuki |
| Age | 32 |
| Place of birth | Japan |
| Rating | 16.92 |
| Darts career | Started in 2008 |
──Career highlights and awards
──Player introduction
Right now, Takehiro Suzuki is one of the strongest soft tip darts players in Japan. For the past several years, he has posted great records, especially the winning in THE WORLD 2012 GRAND FINAL.
Suzuki is characterized by his expressive play style. Audiences can tell how much he loves and enjoys darts from his dynamic gestures such as signaling victory, pumping his fist up in triumph and grins of embarrassment when he missed the target.
"I would like to play darts in unison with audiences." said Suzuki.
He gets audiences on his side with his smile and vibrant performances. It is highly noticeable in tournaments with a big crowd.
"I want to excite people with my darts performance and make them to feel like as if they are actually playing. So I need to keep playing good darts. "
We hope to see the great catch-up of the former champion in the latter half of THE WORLD 2014
Highly anticipated STAGE 4 will start on Sep. 28(Sun).
To be webcasted on DARTSLIVE.TV!
http://dartslive.tv/en/