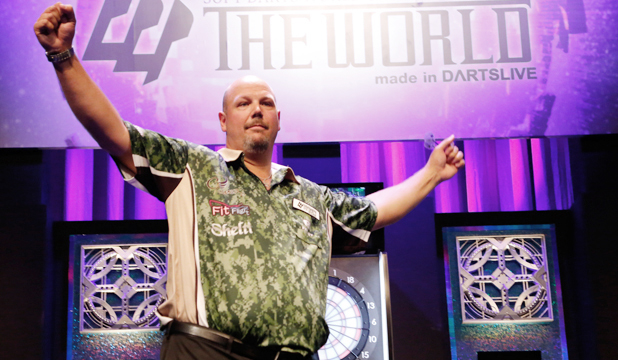 THE WORLD STAGE 4 was held in Tokyo on Sep. 28(Sun) for the first time in Japan. Darin Young a.k.a. "Big Daddy" won this grand tournament with 238 participants. He is one of the leading US players and ranked top in the past US ranking. Young also played PDC world championship.
This tournament had many new participants. Three players of Best 8 were the first participants in this season, and 2 out of the 3 played at THE WORLD for the first time.
* Shintaro Inoue: Runner-up, Shin Higashida (for the first time in about 3 years): Best 4, Yuzuru Kushibiki: Best 8
Shintaro Inoue, the runner-up is at his best now getting 2 consecutive wins in recent PRO tour "JAPAN". He enjoys darts fully and enchanted his audience at the venue.
We can't miss the ranking where top 8 can qualify to play at SUPER DARTS 2015, the highest stage of the soft tip darts tournaments.
Current top 8 include Boris Krcmar, Haruki Muramatsu, Adrian Gray, and Shaun Narain, the leading players of the world such as North America, EU and Asia.
Ranking under 8 has tough players such as Young, the STAGE4 winner, and past winners of GRAND FINAL, Lourence Ilagan and Takehiro Suzuki. These powerhouse players are trying to take every opportunity to rank higher.
Only one STAGE left!
DARTSLIVE.TV will webcast the highly anticipated "THE WORLD STAGE 5 USA" live on Nov. 1(Sat).
http://dartslive.tv/en/