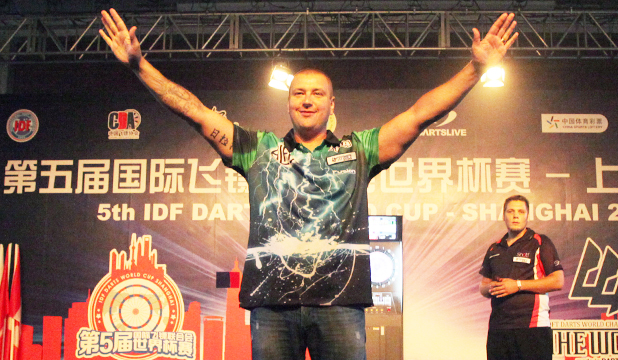 STAGE 3 was held in Shanghai, China on Sunday, August 17, and 182 players participated.
Boris Krcmar has conquered this mid-season stage that is critical in the annual point ranking. This tough Croatian player emerged last season but he didn't win any stage at that time. However, Krcmar won the STAGE for the first time.
This STAGE brought major changes in the annual ranking.
The winner of this stage, Krcmar has jumped to the top. Then follows Adrian Gray (UK) who has kept posting great records, and Haruki Muramatsu (Japan) who has kept rolling after winning the previous STAGE. Runner-up of this STAGE is Shaun Narain (Canada) who fell just short of winning the previous STAGE but he left a vivid impression on fans at the STAGE. He has surged to the 4th spot. Top 5 to 7 include the power house players of THE WORLD: Raymond Carver (USA), Yuji Eguchi (Japan) and Paul Lim (Singapore) .
Moreover, there were some noteworthy players in STAGE 3.
A female new face, Mirai Suzuki (Japan) entered Best 32. Suzuki blasted the record of the leading female player, Anastasia Dobromyslova (Russia) who achieved Best 64 last season.
Deng Yin is a leading player from the hosting country, China and becomes Best 8 this time. He won multiple soft-tip darts championships in China and was Best 8 in THE WORLD before.
There are only 2 STAGES left. Who can grab the glory?
STAGE will be held in Tokyo, Japan on Sunday, September 28.
http://darts-theworld.com/en/schedule/