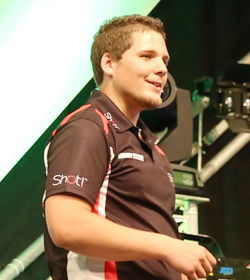 | | |
| --- | --- |
| Name | Shaun Narain |
| Age | 21 |
| Home Town | Canada |
| Rating | 17 |
| Darts Career | About 14 years |
──Major achievements
Champion, Canada Open(Steel tip darts)
Champion, Americas cup youth(Steel tip darts)
Runner-up, THE WORLD 2014 STAGE 2
──What did you think about THE WORLD STAGE 2 France?
It was hard to play against great players as I was nervous and couldn't get enough sleep. I tried to stay calm although I was nervous, but the nervousness got me at several times. For the match against Haruki Muramatsu, I was defeated by him one week earlier at a PDC tournament. I was thinking about the revenge for the loss. I couldn't play as I planned at some games. So I was very disappointed in myself. My emotions took over and I got angry and behaved toward Muramatsu as if I had an overly aggressive personality. I will have to act accordingly from now on to show that I do not.
──Tell us about your feeling toward STAGE 3 China
I would just like to have a good time at STAGE 3, and show everybody that I am a nice professional player.
THE WORLD 2014 STAGE 2 FINAL MATCH - Shaun Narain VS Haruki Muramatsu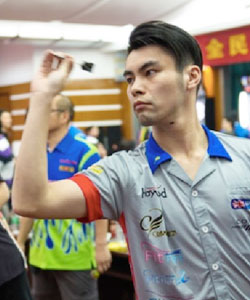 | | |
| --- | --- |
| Name | Cai Jun |
| Age | 28 |
| Home Town | China Shanghai |
| Rating | 17 |
| Darts Career | 4 years |
──Best performances and wins
Ranked 5th in 2012 China Soft-tip Darts Tournament
Champion, 2013 Yangtze Delta Tournament
Champion, Nanjin, Shanghai and Taizhou STAGES
Champion, 2013 Shanghai Soft-tip Darts Tournament
──Regarding THE WORLD STAGE 3 CHINA
I want to be one of the BEST 8 players.
I would like to set a personal best.
──Other
I am looking forward to see great performances by Chinese players.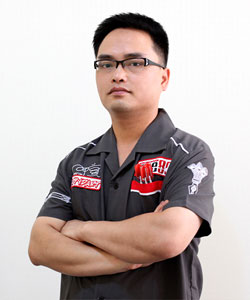 | | |
| --- | --- |
| Name | Deng Yin |
| Age | 33 |
| Home Town | China Kunming |
| Rating | 16.98 |
| Darts Career | 7 years |
──Best performances and wins
Soft-tip darts Champion of China: 5 times
THE WORLD BEST 8: 2 times
──Regarding STAGE 3 CHINA
For me, the keyword for the competitions is "State of mind".
When I focus on the fact that my worst enemy is myself, not other players, I can be calm and get better records.
I would like to give all I can for the upcoming matches and get good results by overcoming my weakness!
──Other
It would be nice to have more stages in THE WORLD in next year (probably, 8 stages).
More DL2 machines in China would be great.