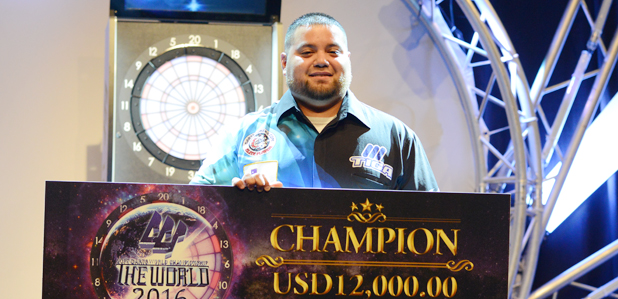 Alex Reyes has come to the fore
Alex Reyes won THE WORLD 2016 STAGE 2 in France for the first time. The US player started soft-tip darts in 2010 and became the top player of the world in just 6 years. His performances in 2015 clearly show that this victory is neither just pure luck nor a major upset.
Reyes made his first appearance at THE WORLD in 2015. He advanced to semifinals twice but 2 hopefuls of the 2015 title, Leonard Gates and Boris Krcmar defeated him in STAGE 3 and STAGE 7 respectively. However, Reyes achieved solid results at other STAGES and obtained the 7th spot in the 2015 ranking. This achievement showed that it won't take long for Reyes to conquer STAGES of THE WORLD although Gates' outstanding performance and Krcmar's victory in 2 consecutive years put the Reyes' amazing achievement in their shadow.
"Honestly, it's a feeling that no one can describe. It's obviously an awesome feeling but one that's indescribable." Reyes expressed his joy of the victory. He obtained this glory after defeating Gates and Krcmar who stopped his advancement to STAGE champion in 2015. Due to this fact, this winning must be very memorable for him.
Valuable win against the world's champion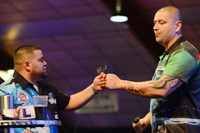 "Krcmar has been ranked #1 in the world ranking for 2 years in a row. As other players, I was aiming to beat him. I did so in the semis. It was like a rock lifted off my shoulders. So to be able to beat him is a huge accomplishment. I could go on to the final in my best condition."
Krcmar and Reyes engaged in an intense see-saw game in the semifinal. Reyes chose Cricket in the final leg and led the game after his 9 mark in 2 consecutive rounds. Krcmar couldn't recover although he was the first thrower in the game. Thus, the victory went to Reyes.
"Boris and I are good friends. He was happy for my winning. We talk often. He's a very competitive guy and so am I. So his drive to win will be much stronger. So it would be more difficult to defeat him next time." Reyes said.
This match between Reyes and Krcmar will be one of the fascinating parts of THE WORLD.
Fulfilled his promise to his best friend in the final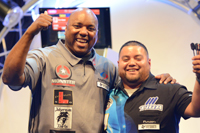 Reyes pulled off a 3-1 victory over Gates in the final. This is the first match between 2 US players in the history of THE WORLD. Many fans were drawn to the 4th leg by the two Americans, where the first thrower, Reyes, made 14 darts finish to lead the perfect game.
"Leonard Gates, is one of my closest friends. He played baseball with my whole family and is a good friend to my whole family. I look up to him and have also learned so much from him. We often play darts together and also pair up a lot and shoot doubles events. We have been talking that it would be nice to play together at a final. So, I am very happy that we were at the stage together, not only the victory."
Reyes and Gates often compete with each other in practice matches and tournaments besides THE WORLD. As they know each other's play style very well, they could focus on the match and maintain their concentrations.
"No secret to winning, just stay focused, and don't let the little distractions bother you. It's so easy to lose focus and concentration that it can throw off your whole game. So staying focused is a huge key into winning! I was so grateful that it happened to be me and my good friend playing in the finals. I could stay focus and play my best as I know him very well." Reyes says.
New goal after first victory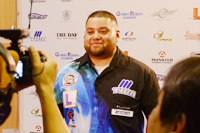 "Since I first started, I try to practice every day when I can. No certain routines. I just set different little goals for myself. It applies to matches, too. I always set a goal. I try to reach the goal. To me, the main key is setting certain goals for yourself to try and reach and accomplish." Reyes emphasizes the importance of goal setting.
After achieving his goal of stage champion, Reyes was asked about his next goal at the end, and replied along with his gratefulness for his family and friends.
"My next goal is to win many STAGES to stay on top and qualify for the GRAND FINAL and hopefully being very successful if not winning the GRAND FINAL. Last but not least, my friends and family, they are such a HUGE part to my success. It's a great feeling knowing you have so much support while you are playing in the other side of the world and that means a lot to me. I cannot express how grateful I am for you all. Thank you from the bottom of my heart and hope I can continue to produce great results!"
No US player has become the annual champion of THE WORLD yet.
Gates was almost there last year while Reyes joined the world's strongest players by winning STAGE 2. Would those 2 emerging US players be able to deliver the historic achievement? We can't wait to see their upcoming performances.
THE WORLD 2016 STAGE 3 is coming soon!
Don't miss the live webcast on Sunday, Aug 14!