Feature Story of THE WORLD 2013 GRAND FINAL
THE WORLD 2013 GRAND FINAL decides the World Champion of soft-tip darts. World's top players gathered in Hong Kong. Lourence Ilagan became the top player in 2013.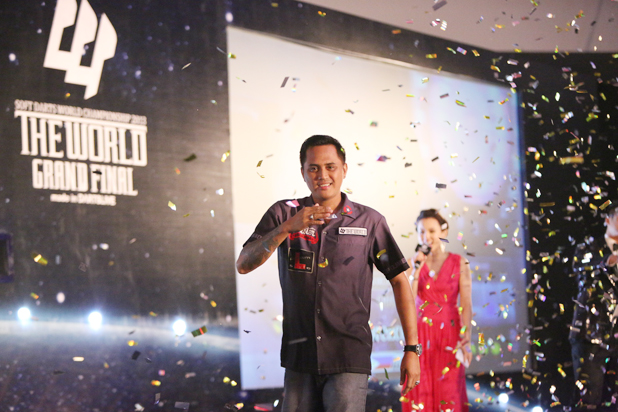 "It took a long time to get here. But I finally won."
Ilagan said. This Philippines' hero had been one of the strongest contenders for the title since the first tournament. But he finished best 8 in 2011 GRAND FINAL, and best16 in 2012 GRAND FINAL. This is his long-awaited first championship title.
Venue filled with huge cheers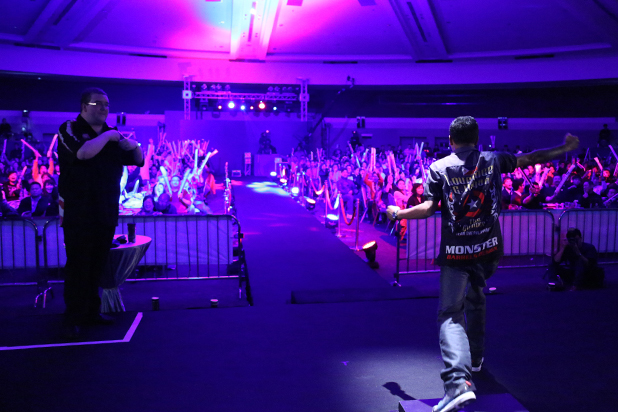 Noise turned into a loud cheer at the venue.
Ilagan hit the double bull consecutively at the LEG2 cricket in the quarter final match against Stephen Bunting.
Double bull-Double bull-Double bull
Double bull-S17-Double bull
Double bull-S20-D17 Finish
Audience roared at the very moment the match concluded. The score was 757 to 760, a mere 3-point difference.
Many fans consider this match as an actual final because of the strength and tournament records of both players. Bunting showed his overwhelming power in the tournament, but Ilagan defeated him 3-1 by taking both LEG1 and LEG2.
Full of ups and downs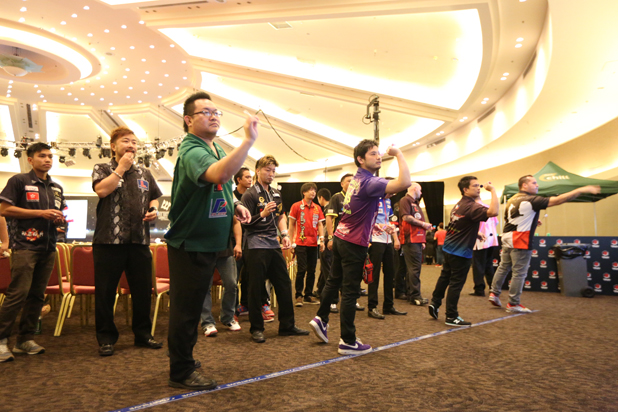 On hindsight, this tournament had full of ups and downs. GRAND FINAL is a high level competition that draws world's top players, and no one can predict who will win. In other words, anyone can be defeated. In fact, top players including Ray Carver, Darryl Fitton, Sho Katsumi, and Mitsumasa Hoshino lost in the first round. Many competitive players disappeared at the early part of the tournament.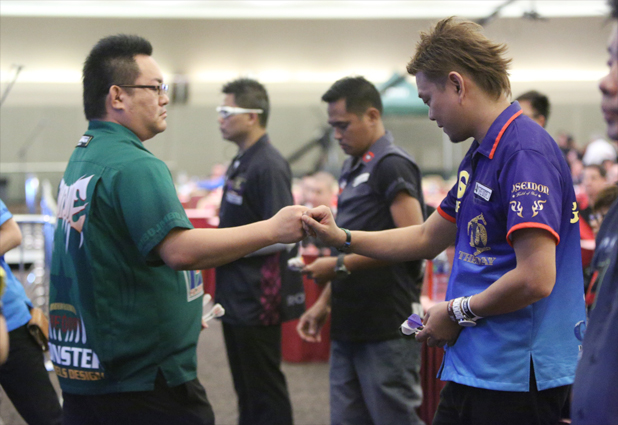 Many favorites for the Championship lost before the best 8 competitions.
Japanese player, Morihiro Hashimoto defeated Takehiro Suzuki, the defending champion who won last GRAND FINAL. Ronald Briones who won 2 regular STAGES in this season was defeated by Stephen Bunting by a hair. Benjamin Dersch prevented Scott Kirchner, the winner of SUPER DARTS 2013 to join the best 8 players.
GRAND FINAL-the first final between 2 players of the same country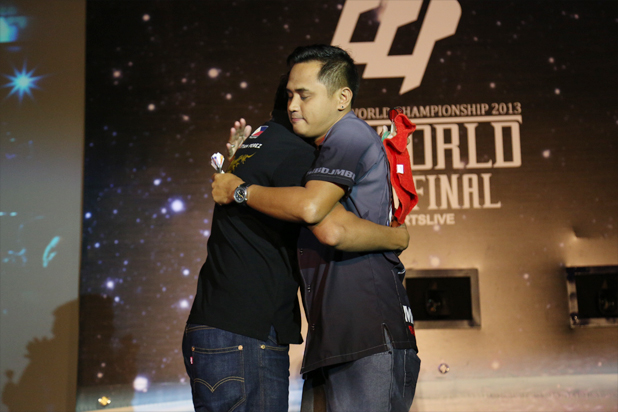 Both Ilagan and Perez from Philippines survived to compete in the final match.
"Perez is younger than me and watches my play closely. He asks me questions about darts technique." Ilagan said. This final was a competition between players who know each other's strategies very well.
Ilagan was not feeling well right before playing on the final stage due to pressures and fatigue from the competitions in the season. The other finalist, Perez reached the finals in 2 consecutive years.
First, Perez was leading the match. He shot first in LEG1. However, probably because of pressure, Perez could not perform that well, and Ilagan took over the game showing his wild, flexible and dynamic play style. Ilagan was leading 3-1 in LEG5, and Perez regained his pace. But Ilagan outperformed Perez and won this match 4-1.
Life changing THE WORLD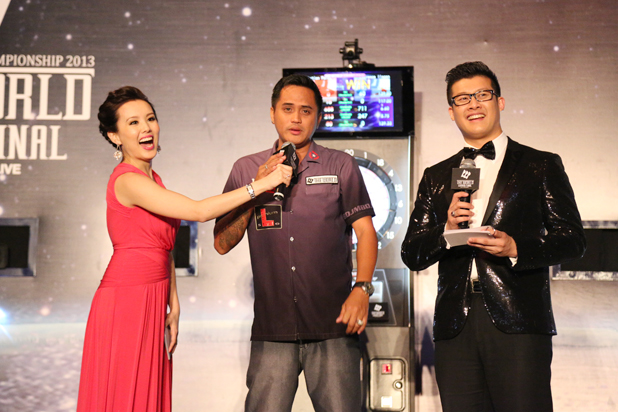 "I have spent half of my life for darts. THE WORLD changed my life." Ilagan commented right after the match.
"I consider people who are engaged in this tournament as a family. Thank you, my fans in Philippines and people who supported me all the time. We appreciate your support."
THE WORLD is getting tougher every year. Next year, the competition will be more intense. It would be interesting to see the change in power relationships of the players in THE WORLD 2014.
THE WORLD 2013 GRAND FINAL will be available on DVD for purchase.
・It will be released in Mar. 2014. Stay tuned as more information will be available later.
-THE WORLD 2013 GRAND FINAL-
【Match result:Quarter Final Match / Semi Final Match / Final Match】
■Quarter Final Match1

Paul Lim(Singapore) VS Christian Perez(Philippines) (2-3)

■Quarter Final Match2

Boris Krcmar(Croatia) VS M Hashimoto(JAPAN) (3-2)

■Quarter Final Match3

Lourence Ilagan(Philippines) VS Stephen Bunting(U.K.) (3-1)

■Quarter Final Match4

R Van Deursen(U.S.A.) VS Benjamin Dersch(U.S.A.) (3-2)

■Semi Final Match1

Christian Perez(Philippines) VS Boris Krcmar(Croatia)(4-1)

■Semi Final Match2

R Van Deursen(U.S.A.) VS Lourence Ilagan(Philippines) (2-4)

■Final Match

Lourence Ilagan(Philippines) VS Christian Perez(Philippines) (4-1)